What's in your bag this week...?
Fall Season Week # 9
Last Updated (Monday, 28 December 2015 21:41) Written by Vivian Bayona Monday, 28 December 2015 21:39
Starting from the left:

First row: *Potatoes(Peter Wilcox), Leaf Lettuce or Romaine Lettuce, Cauliflower **

Bottom row: Collard Greens, Sweet Onions, Watermelon Radish, Tomatoes, Carrots, Dandelion

* (Enjoy the special fall treat!)

**(use it quickly because the weather has been unforgiving with the cold weather crops)

RECIPES:

Black-eyed peas and greens for New Year's

Easy Carrot Spaghetti (Vegan, Paleo)

Watermelon Radish Chips with Cumin Salt
Kale Salad with Quick-Pickled Watermelon Radish
Watermelon Radish Salad with Avocado Vinaigrette

Article of the week:

Meet the Watermelon Radish! And a recipe..

Watermelon Radish A watermelon radish is, on first glance, a plain greenish-white root. But slice it open and it reveals a stunning fuchsia interior. They're also known as red-meat or beauty-heart radishes. Roasting radishes gives them a smooth texture and sweet, earthy flavor similar to that of roasted turnips; can be served fresh or cooked, hot or cold. They pair well with fennel, apple, cheeses such as feta and chèvre, butter, creamy based dressings, vinaigrettes, bacon, white fish, cucumbers, mild salad greens, cooked eggs, noodles such as soba and udon, citrus, cilantro, mint and tarragon.
---
Fall Season Week # 8
Last Updated (Monday, 21 December 2015 19:54) Written by Vivian Bayona Monday, 21 December 2015 19:53
Starting from the left:
First row: Savoy Cabbage, Leaf Lettuce, Romaine Lettuce, Tomatoes
Bottom row: Sweet Potatoes, Broccoli, Radicchio, Swiss Chard, Kale
RECIPES:
Radicchio Salad with Golden Raisins
Roasted Savoy Cabbage with Black Bean Garlic Sauce
Article of the week:
10 Health Benefits of Radicchio
---
Fall Season Week # 7
Last Updated (Monday, 14 December 2015 18:12) Written by Vivian Bayona Monday, 14 December 2015 18:10
Starting from the left:
First row: Leaf Lettuce, Romaine Lettuce, Tatsoi Spinach,
Bottom row: Napa Cabbage, Beets, Onions, Carrots, Kale
RECIPES:
NAPA CABBAGE SALAD
8 Things to do with napa cabbage
BABY GREENS SALAD WITH BEETS
Beet Recipes
Barley and Kale Salad with Golden Beets and Feta
Article of the week:
Health benefits of Napa cabbage
Top 5 Uses for Napa Cabbage

1. Wrap it Up! Use the large outer leaves of the Napa Cabbage to make Napa Cabbage wraps! You can roll just about any filling inside the large, flexible leaves: rice and beans, soy chicken salad, salsa, seitan, tempeh, corn salad, soy cheese...the list goes on! Just think of the leaf as a tortilla or wrap and let your creativity go! You can secure the wrap with a toothpick for presentation purposes. Plus using a cabbage 'wrap' instead of a flour or corn wrap will save on calories and boost your veggie intake.

2. Soups. Napa Slaw is a crunchy bright and summery veggie. Soy you may forget that it will be delicious cooked! In a soup it keeps a nice meaty tender texture and absorbs flavors very well. Slice into thin strips-as large pieces in a soup would be difficult to eat with a spoon!

3. Napa Cabbage Slaw. This is my favorite way to eat Napa Cabbage. In a crunchy, creamy, zesty slaw! In fact I'll post my recipe later today...

4. Stir Fry Gem. Napa Cabbage sautes very nicely. The edges get a bit caramelized and those nice curly leaves add some great texture without adding calories. So you can fill you stir fry bowl with some light Napa Cabbage and some thick chunks of hearty and protein-rich tofu.

5. Plating Whiz. Napa Cabbage is an excellent leaf for plating a dish. Place a large leaf on the bottom of a salad or entree plate and you have already made your meal appear healthy and appetizing. The fresh green color will accent colors beautifully. Lay two leaves across a plate, or even a shredded leaf on the bottom of a plate and your guests will swoon over the beautiful leaf. And yes-eating the cabbage is part of the deal! Napa has such a tender hearty texture that your guests can slice into the 'plate accent' and as I always love to encourage-eat the garnish!
Five Ways to eat: Beets
Here are five favorite ways to eat beets.
1.Raw! - Yes, beets are quite good raw. Slice them up and serve them with a sprinkle of chile and lemon. Delicious.
2.Roasted with goat cheese. - The classic, all-time favorite preparation. Roast beets until they are tender and juicy, then eat them with some spicy greens and piquant goat cheese. Add some hazelnuts and you're in heaven.
3.In a salad. - Beets make a good complement to other salad staples. Try them tossed with barley and feta in a grain salad, or with onions and horseradish cream in an elegant composed dinner salad.
4.Pickled! - Pickled beets are just marvelous. The tangy vinegar and sweetness complements beets' earth undernotes. Try a quick batch of refrigerator beet pickes.
5.As dessert. - Beets and their smoky, earthy sweetness are the secret ingredient in some fabulous desserts, like our velvety beet and cocoa cake, and bright red beet ice cream.
---
Fall Season Week # 6
Last Updated (Monday, 07 December 2015 20:24) Written by Vivian Bayona Monday, 07 December 2015 20:19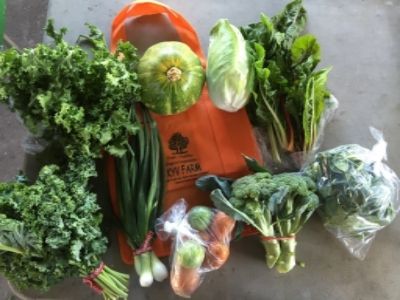 Starting from the left:
First row: Escarole, Calabaza (Tropical Winter Squash), Cabbage, Swiss Chard
Bottom row: Kale, Sweet Onions, Tomatoes, Broccoli, Tatsoi Spinach
RECIPES:
Escarole, White Bean And Pine Nut Salad
Kale, White Bean And Escarole Soup
Grilled Escarole
Escarole and Walnut Salad
Swiss Chard with Garbanzo Beans and Fresh Tomatoes
Sauteed Swiss Chard with Onions
Broccoli Stem Salad with Creamy Garlic Tarragon Sauce – Don't Throw Those Broccoli Stems Away!
Sweet and Salty Broccoli, Carrot and Tofu Stir Fry
---
Fall Season Week #5
Last Updated (Monday, 30 November 2015 20:35) Written by Vivian Bayona Monday, 30 November 2015 20:33
Starting from the left:

First row:
Tomatoes,
Salad Turnips,
Lettuce Mix, Escarole
Bottom row:
Kohlrabi, Sweet
Onions, Kale, Swiss Chard, Bok Choy
Article of the week:
Kohlrabi nutrition facts:
These little sputnik-shaped vegetables come in green or purple, can be eaten raw or cooked, and taste a lot like broccoli stems. The word kohlrabi is German for cabbage turnip (kohl as in cole-slaw, and rübe for turnip) though kohlrabi is more related to cabbage and cauliflower than to root vegetables. We usually eat them raw, just peeled, sliced and added to a salad, but they are also delicious cooked and are often used in Indian cuisine.
Health benefits of Kohlrabi (Knol-khol)
■Mildly sweet, succulent kohlrabi is notably rich in vitamins and dietary fiber; however, it has only 27 calories per 100 g, a negligible amount of fat, and zero cholesterol.

■Fresh kohlrabi stem is rich source of vitamin-C; provide 62 mg per 100 g weight that is about 102% of RDA. Vitamin C (ascorbic acid) is a water-soluble vitamin and powerful anti-oxidant. It helps the body maintain healthy connective tissue, teeth, and gum. Its anti-oxidant property helps the human body protect from diseases and cancers by scavenging harmful free radicals from the body.

■Kohlrabi, like other members of the Brassica family, contains health-promoting phytochemicals such as isothiocyanates, sulforaphane, and indole-3-carbinol that are supposed to protect against prostate and colon cancers.

■It especially contains good amounts of many B-complex groups of vitamins such as niacin, vitamin B-6 (pyridoxine), thiamin, pantothenic acid, etc., that acts as co-factors to enzymes during various metabolism inside the body.

■Knol-knol notably has good levels of minerals; copper, calcium, potassium, manganese, iron, and phosphorus are especially available in the stem. Potassium is an important component of cell and body fluids that helps controlling heart rate and blood pressure by countering effects of sodium. Manganese is used by the body as a co-factor for the antioxidant enzyme, superoxide dismutase.

■In addition, its creamy color flesh contains small amounts of vitamin A and carotenes.

■Kohlrabi leaves or tops, like turnip greens, are also very nutritious greens abundant in carotenes, vitamin A, vitamin K, minerals, and B-complex group of vitamins.
Escarole Nutrition Facts :
is a variety of endive whose leaves are broader, paler and less bitter than other members of the endive family. In taste -- but not color -- it is almost indistinguishable from radicchio.
Like radicchio, kale and chard, escarole is a hearty green that thrives late into the growing season. The heart of an escarole head is less bitter because the leaves haven't gotten as much sunlight.
High in folic acid, fiber, and vitamins A and K, escarole can be eaten raw or gently cooked. Try tossing a few escarole leaves into a mild salad, serving some quickly wilted with lemon juice, or stir chopped escarole into soup.
---
Fall Season Week #4
Last Updated (Monday, 23 November 2015 21:29) Written by Vivian Bayona Monday, 23 November 2015 21:27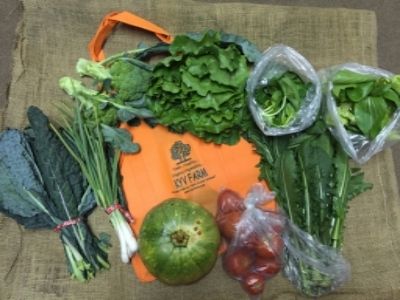 Starting from the left:

First row:
Kale,
Green Onions,
Broccoli, Lettuce, Baby Tatsoi Spinach,
Premium Greens Mix
Bottom row:
Calabaza (Tropical Winter Squash), Tomatoes, Dandelion Greens
Article of the week:
Dandelion: A Wonderful Edible Weed

Calabaza Squash: A round pumpkin-shaped squash that is found in a variety of sizes ranging from a few inches in diameter, similar to a small canteloupe up to two feet. The skin color ranges from green to light tan and orange, covering a firm golden orange flesh that is slightly firmer than the flesh of a pumpkin. With a sweet mild flavor like acorn squash, the Calabaza can be prepared just like other squash varieties such as acorn and butternut. It is a good squash to use in fish and meat stews, for soups, puréed in squash dishes, as a pie filling, or as a substitution for recipes requiring pumpkin or butternut squash. The Calabaza squash is native to Central and South America as well as the Caribbean. It is also known as the West Indian pumpkin, the green pumpkin squash, calabash, and calabasa.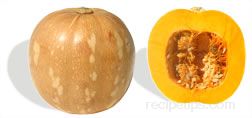 ---
Fall Season Week #3
Last Updated (Wednesday, 18 November 2015 21:51) Written by Vivian Bayona Wednesday, 18 November 2015 21:50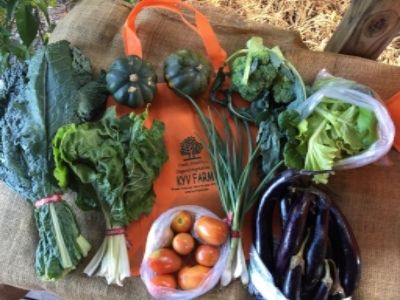 Starting from the left:

First row:
Kale, Acorn Squash, Broccoli,
Premium Greens Mix
Bottom row:
Swiss Chard
,
Tomatoes, Green Onions,
Oriental Eggplant
Article of the week:
---
Fall Season Week #2
Last Updated (Monday, 09 November 2015 20:45) Written by Vivian Bayona Monday, 09 November 2015 20:44
Starting from the left:

First row: Kale, Oriental Eggplant, Broccoli, Broccoli Greens,
Center:
Radishes, Salad Turnips,
Premium Greens Mix,
Bottom row:
Baby Bell Peppers,
Tomatoes, Turnips with greens
Glazed Turnips with Greens
1 – 2 bunches salad turnips and/ or radishes, greens reserved
2 T. unsalted butter
1 – 2 T. sugar
Trim turnips by cutting greens just above turnip and removing "tail" from root end. Rinse but do not peel. Cut larger turnips in half, if desired.
Place in a large skillet. Add enough water to cover about half way. Add butter, sugar and a pinch of salt. Bring to a boil. Cook uncovered, stirring occasionally, until liquid is syrupy and turnips are tender, 10 – 15 minutes. Add greens to skillet cook over medium heat, stirring, until just wilted, 2 – 3 minutes. Season with salt and pepper.
Roasted Turnips
1 bunch turnips
1 – 2 T. extra virgin olive oil salt & pepper pinch red chili pepper flakes, optional
Preheat oven to 425 Trim turnips, leaving a small stub of the stems end attached. Rinse well and cut in half lengthwise. Toss with olive oil, a little salt & pepper, and red pepper flakes, if using. Place cut side down in a roasting pan. Roast for 10 minutes. Flip over with tongs and return to oven for 3 – 5 minutes more. Yum!

Article of the week:

Broccoli Greens: Broccoli leaves taste faintly of broccoli — earthy and mild. They can be steamed, sauteed and even grilled in place of other greens, such as collards, cabbage and kale. Younger leaves off the plant are tender enough to toss into a salad. Medium leaves are the perfect size and thickness to stuff with veggies and meat. Large leaves work best in soups and stews, where they'll wilt but still have shape. Broccoli leaves are richer in beta-carotene than the florets, and contain other healthful phytonutrients that aren't found in the stems and florets.
---
Fall Season 2015 Week #1
Last Updated (Monday, 09 November 2015 19:53) Written by Vivian Bayona Monday, 09 November 2015 19:50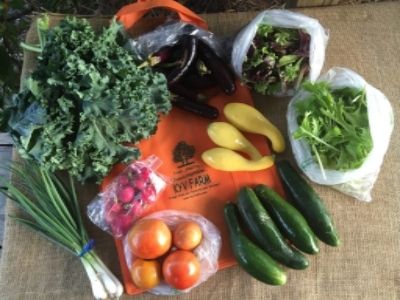 Starting from the left:
Kale, Oriental Eggplant, Salad Mix, Premium Greens Mix,
Green Onions, Radishes, Yellow Squash or Zucchini, Tomatoes, Cucumber
STEWED EGGPLANT ORIENTAL

3 lg. eggplants

4 green peppers

1/2 c. cooking oil

5 tsp. salt

10 ripe tomatoes

2 tsp. paprika

1 lb. shrimp

1 lb. smoked sausage




Cut peppers and pared eggplant into small pieces. Cook peppers and eggplant in oil until both become slightly soft and brown (abut 15 minutes).

Cut tomatoes into small pieces. Clean shrimp and cut in half. Cut smoked sausage into 1/4 inch slices. Add tomatoes, shrimp and sausage to eggplant and peppers. Stir thoroughly, while adding seasoning. Cook until eggplant is done. Serve over rice or can be served as a side vegetable dish. Yield: 6-8 servings.
ORIENTAL EGGPLANT CASSEROLE

3 tsp. oil or butter

1 lg. onion, sliced thinly

1 med. eggplant

1/4 c. green pepper, diced

1 (approx.) 11 oz. can tomato-mushroom sauce

1 tsp. salt

1/4 tsp. pepper

2 lg. tomatoes, peeled and cubed

1 lb. cottage cheese

1 1/2 c. matzoh farfel




Saute onion until tender. Peel eggplant and cut into 1/2 inch cubes. Combine eggplant, green pepper, tomato-mushroom sauce, salt and pepper. Cook covered 15 minutes until eggplant is tender. Stir in tomatoes. In greased baking dish, alternate layers of vegetables, cheese and matzoh farfel; beginning and ending with vegetables. Bake uncovered at 350 degrees for 20 minutes.
---
Sunday, 23 April 2017 16:34
---
Sunday, 23 April 2017 16:34
---
Sunday, 23 April 2017 16:34
---
Sunday, 23 April 2017 16:34
---
Sunday, 23 April 2017 16:34
---
Sunday, 23 April 2017 16:34
---
Sunday, 23 April 2017 16:34
---
Sunday, 23 April 2017 16:34
---
Sunday, 23 April 2017 16:34
---
Sunday, 23 April 2017 16:34
---
Sunday, 23 April 2017 16:34
---
Sunday, 23 April 2017 16:34
---
Sunday, 23 April 2017 16:34
---
Sunday, 23 April 2017 16:34
---
Sunday, 23 April 2017 16:34
---
Sunday, 23 April 2017 16:34
---
Sunday, 23 April 2017 16:34
---
Sunday, 23 April 2017 16:34
---
Sunday, 23 April 2017 16:34
---
Sunday, 23 April 2017 16:34
---
Sunday, 23 April 2017 16:34
---
Sunday, 23 April 2017 16:34
---
Sunday, 23 April 2017 16:34
---
Sunday, 23 April 2017 16:34
---
Sunday, 23 April 2017 16:34
---
Sunday, 23 April 2017 16:34
---
Sunday, 23 April 2017 16:34
---
Sunday, 23 April 2017 16:34
---
Sunday, 23 April 2017 16:34
---
Sunday, 23 April 2017 16:34
---
Sunday, 23 April 2017 16:34
---
Sunday, 23 April 2017 16:34
---
Sunday, 23 April 2017 16:34
---
Sunday, 23 April 2017 16:34
---
Sunday, 23 April 2017 16:34
---
Sunday, 23 April 2017 16:34
---
Sunday, 23 April 2017 16:34
---
Sunday, 23 April 2017 16:34
---
Sunday, 23 April 2017 16:34
---
Sunday, 23 April 2017 16:34
---
Sunday, 23 April 2017 16:34
---
Sunday, 23 April 2017 16:34
---
Sunday, 23 April 2017 16:34
---
Sunday, 23 April 2017 16:34
---
Sunday, 23 April 2017 16:34
---
Sunday, 23 April 2017 16:34
---
Sunday, 23 April 2017 16:34
---
Sunday, 23 April 2017 16:34
---
Sunday, 23 April 2017 16:34
---
Sunday, 23 April 2017 16:34
---
Sunday, 23 April 2017 16:34
---
Sunday, 23 April 2017 16:34
---
Sunday, 23 April 2017 16:34
---
Sunday, 23 April 2017 16:34
---
Sunday, 23 April 2017 16:34
---
Sunday, 23 April 2017 16:34
---
Sunday, 23 April 2017 16:34
---
Sunday, 23 April 2017 16:34
---
Sunday, 23 April 2017 16:34
---
Sunday, 23 April 2017 16:34
---
Sunday, 23 April 2017 16:34
---
Sunday, 23 April 2017 16:34
---
Sunday, 23 April 2017 16:34
---
Sunday, 23 April 2017 16:34
---
Sunday, 23 April 2017 16:34
---
Sunday, 23 April 2017 16:34
---
Sunday, 23 April 2017 16:34
---
Sunday, 23 April 2017 16:34
---
Sunday, 23 April 2017 16:34
---
Sunday, 23 April 2017 16:34
---
Sunday, 23 April 2017 16:34
---
Sunday, 23 April 2017 16:34
---
Sunday, 23 April 2017 16:34
---
Sunday, 23 April 2017 16:34
---
Sunday, 23 April 2017 16:34
---
Sunday, 23 April 2017 16:34
---
Sunday, 23 April 2017 16:34
---
Sunday, 23 April 2017 16:34
---
Sunday, 23 April 2017 16:34
---
Sunday, 23 April 2017 16:34
---
Sunday, 23 April 2017 16:34
---
Sunday, 23 April 2017 16:34
---
Sunday, 23 April 2017 16:34
---
Sunday, 23 April 2017 16:34
---
Sunday, 23 April 2017 16:34
---
Sunday, 23 April 2017 16:34
---
Sunday, 23 April 2017 16:34
---
Sunday, 23 April 2017 16:34
---
Sunday, 23 April 2017 16:34
---
Sunday, 23 April 2017 16:34
---
Sunday, 23 April 2017 16:34
---
Sunday, 23 April 2017 16:34
---
Sunday, 23 April 2017 16:34
---
Sunday, 23 April 2017 16:34
---
Sunday, 23 April 2017 16:34
---
Sunday, 23 April 2017 16:34
---
Sunday, 23 April 2017 16:34
---
Sunday, 23 April 2017 16:34
---
Sunday, 23 April 2017 16:34
---
Sunday, 23 April 2017 16:34
---
Sunday, 23 April 2017 16:34
---
Sunday, 23 April 2017 16:34
---
Sunday, 23 April 2017 16:34
---
Sunday, 23 April 2017 16:34
---
Sunday, 23 April 2017 16:34
---
Sunday, 23 April 2017 16:34
---
Sunday, 23 April 2017 16:34
---
Sunday, 23 April 2017 16:34
---
Sunday, 23 April 2017 16:34
---
Sunday, 23 April 2017 16:34
---
Sunday, 23 April 2017 16:34
---
Sunday, 23 April 2017 16:34
---
Sunday, 23 April 2017 16:34
---
Sunday, 23 April 2017 16:34
---
Sunday, 23 April 2017 16:34
---
Page 4 of 28